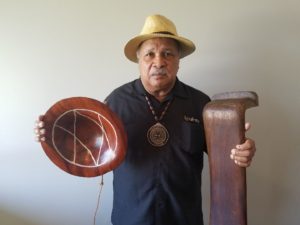 I recently returned from a long trip overseas including an extended stay in my beautiful island home of Tonga. It was a wonderful time to not only visit family and friends but also to do some more work on the ancient history of Tonga. I visited some of the ancient ruins and historical sites, many of which are forgotten by the general population and unknown to the various "experts" of Tongan history.
I had the wonderful opportunity to conduct interviews on various media networks, presentations, and discussions in many local kava circles. There is an overwhelming wave of support from the local people in Tonga for the knowledge and truths that my lifetime work has uncovered.
At the same time, there are no shortage of critics. The interesting thing about these critics is they tend to have one thing in common and ask me the same question. These critics tend to be products of the modern Academia, and always ask me where I received my education. They ask this question because they feel that somehow their western education validates their ideas, but more importantly, they falsely believe this western education bars anyone from doubting their claims.
Western education is a wonderful tool and I believe that it can be a very beneficial pursuit. I have several of my children that I have encouraged to pursue a western education and they have done so to the highest level. However, western education is not all-knowing and in many ways has many shortcomings. One area in which western education has a shortcoming is in deciphering ancient Polynesian history. Tonga is a prime example of where western education has fallen short, and because the foundation of western education's theories on Tongan history are flawed anyone basing their theories on western education inherits these flaws!
"Where did I get my education? The simplest answer is I got my education directly from the source, through Kaliloa and Tanoa a Traditional Polynesian Education."
Now, in answering the burning questions of Academia. Where did I get my education? The simplest answer is I got my education directly from the source, through Kaliloa and Tanoa a Traditional Polynesian Education. Growing up in Tonga I was exposed to the source of Tongan history the people who were the carrier vessels of knowledge who shared these truths among the kava circles that were not always open to the public. It is true, I admit that a major part of my education is a direct result of my ancestors who gifted me this educational opportunity. I was permitted to attend those educational kava ceremonies as a young boy because of my ancestors. My ancestors who are buried throughout the ancient burial ruins in Tonga. The same burial tombs that I have shared not just a biological connection with but it seems a spiritual connection to since I was a child. It was this unique educational experience, that may be one of a kind and no longer available to anyone alive that sparked my journey. The journey to unveil the true ancient history of Tonga and Polynesia as a whole.
I do not claim to impede on western academia's theories on Polynesian history. Frankly, the direction they are heading is not related to the history I am pursuing. I am not pursuing the western perception or views on Polynesian and Tongan history. I am pursuing how Tongans and Polynesians made history and experience history, which is why my unique Kaliloa and Tanoa education allows me to do and accomplish what I have accomplished to this day.
Traditional Polynesian Education